The landscape of education is rapidly changing. Teachers are now being asked to teach their students using platforms like Zoom and Microsoft Teams for online instruction. Many teachers are being thrown into the new world of online education without much training or support. We are here to help break down online education and help teachers effectively use strategies that work for both themselves and their students. The model we use for this professional development is to pinpoint specific needs and address them individually. These are short, 30 minute to 1 hour, sessions that can help you in your classroom immediately.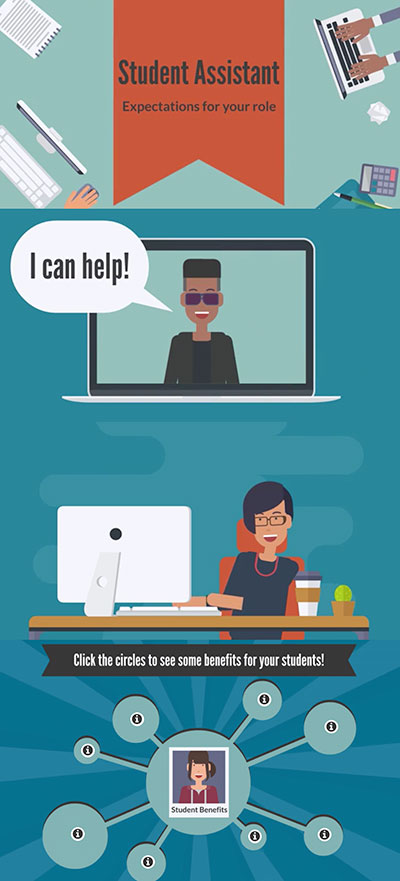 Our first course is about using student assistants when teaching online.
Online student assistants are student helpers who assist the teacher in an online setting. They may test technology prior to the session, monitor questions from other students in the chat, point out technical issues for the teacher, lead class discussions, and more! This course will help teachers understand the benefits of having a student assistant for live, online lessons and will provide tips, tricks, and resources for immediate implementation.
This fast-paced course is just-in-time-training for teachers who are looking for ways to make the sudden move to online instruction more efficient and a better experience for themselves and their students. The course consists of small, digestible tips and tricks that teachers can implement immediately plus plenty of supporting materials.
Created by Florida Center for Instructional Technology (FCIT), in partnership with USF Corporate Training and Professional Education, the course is available free of charge to K-12 teachers everywhere.
Roy Winkelman is a 40+ year veteran teacher of students from every level kindergarten through graduate school. As the former Director of FCIT, he began the Center's focus on providing students with rich content collections from which to build their understanding. When not glued to his keyboard, Dr. Winkelman can usually be found puttering around his tomato garden in Pittsburgh.
FCIT Newsletter
Each month FCIT publishes a newsletter with short articles on teaching and learning with technology, using digital content in the classroom, and technology integration. Subscribe today! The subscription form will open in a new window. When you have subscribed, you can close the new window to return to this page.