Monday, July 8 – Friday, July 12
9:00 AM – 3:00 PM each day at the Undercroft in Ybor, Tampa
High school students: learn what being an ethical hacker is all about!
Enter the world of cybersecurity through this one-week, hands-on training camp. Students in grades 9-12 will learn to assess cyber targets, work with industry professionals, and compete through simulated cybersecurity exercises. Camp topics and exercises will include basic Linux, reconnaissance, web application vulnerability exploitation, social engineering, and basic cryptography. Supported by local cybersecurity student groups and industry leaders, campers will learn more about cybersecurity careers and network with the Tampa-area cybersecurity community. Apply early — space is limited!
Lunch is included.
Full-tuition scholarships available! Apply now!
Email cybercamp@usf.edu for information.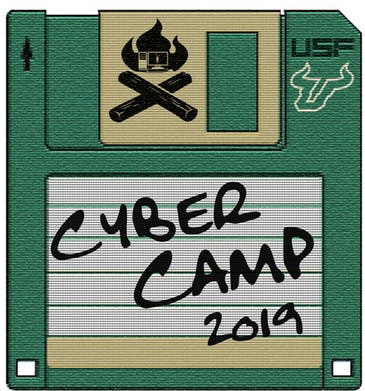 Cyber Florida: The Florida Center For Cybersecurity
The Florida Center for Cybersecurity (Cyber Florida) is a state-funded organization dedicated to positioning Florida as a national leader in cybersecurity through education and workforce development; innovative, interdisciplinary research; and community outreach. Hosted at the University of South Florida, Cyber Florida works with all 12 State University System of Florida (SUS) institutions as well as industry, government and defense to build partnerships and develop programs that grow and strengthen Florida's cybersecurity industry.