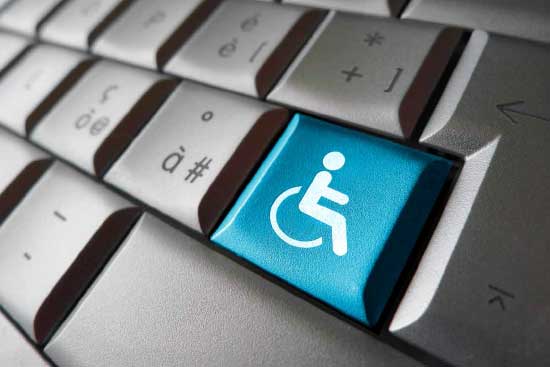 ICTI-180: Accessibility in the Digital Classrooms
About this course
Students come to our classrooms with a variety of learning styles and unique abilities, and as teachers, we work diligently to meet the needs of each student. Whether it be providing extra time on tests and assignments, providing additional learning supports, or using assistive technologies; there are many strategies for supporting diverse learners in our face-to-face classrooms. But what happens when our learners try to access our materials in the digital classroom? Through this course you will learn effective strategies and best practices for making your digital classroom accessible to all students.
What will I learn in this course?
Week 1: What is Accessibility?
In the 21st century classroom, many of our curricular materials, learning experiences, and classroom communications happen online. But can all of your learners (and their parents) access that content? This week, participants will learn about accessibility and the applicable laws that call upon schools to ensure all students have an equal opportunity in the classroom.
Week 2: Why is Accessibility Important in the Digital Classroom?
There is nothing more rewarding as an educator than watching a student have an "ah-ha" moment in front of your eyes. But what if students with amazing potential and unique talents were prevented from having those "ah-ha" moments because the content we gave them to learn was unusable? During week two, participants will learn how students with disabilities experience the web and how accessibility and universal design can positively impact that experience.
Week 3: Where Does Inaccessible Content Hide in the Digital Classroom?
If teachers want to ensure that students can access all of their content, they must be able to find existing problem areas and address them in a quick and easy way. Additionally, they must know universal design strategies to create new content with accessibility in mind. This week, participants will learn about which aspects of digital content to check for accessibility and will leverage tools that help content builders identify inaccessible content.
Week 4: How Can I Apply Accessibility Best Practices?
After gaining an understanding of how to use accessibility best practices and universal design, the next step is putting those strategies into action to transform learning and sharing that know-how with colleagues. During this final week, participants will explore the Technology Integration Matrix and it's relationship to accessibility, create a captioned video, and incorporate their digital creations into a living resource for K-12 teachers across the world.
Why choose iTeach online courses?
Courses are delivered completely online, self-paced, and facilitated by an expert in the field.
Receive individualized feedback from your instructor.
Courses are equivalent to twenty professional development contact hours.
Work through each module at your own pace.
Register on an open-enrollment basis. No application or prerequisites required.
Receive a course completion certificate and digital badge after successfully completing the course. Use your badge to showcase your expertise and skill set on social media profiles, your email signature block, or electronic copies of a résumé.
All iTeach courses are designed to help educators and administrators more successfully integrate technology into teaching and learning.
FORMAT: Facilitated online course. Work each weekly module at your own pace.
COST: $120 per participant with discounts for larger groups.
SCHEDULE: This course can be scheduled for groups from the same school or district. It is not available for individual registration. The course is equivalent to 20 contact hours. Email TIM@fcit.us for group scheduling, volume discounts, or other questions.